« Nazad
Seven Gables Inn
305 State Highway 165 South, MO 65616 ,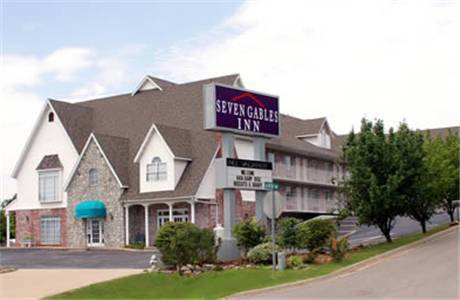 Seven Gables Inn - Opis
Na 12 minutaNastavak kolima udaljenosti od centra grada, ovaj hotel se nalazi u ulici 305 State Highway 165 South, a pozicija mu je zapad za grad Branson. Sve to ga čini idealnim za otkrivanje grada i okoline.Hotel ima 78 soba/e/u, i to od soba tipa Standard Room do soba tipa King. Cene najjeftinijih soba u hotelu Seven Gables Inn kreću se od 4 224 dinar - Srbija . U hotelu Seven Gables Inn pronaći ćete sve usluge koje treba da ima hotel kategorije tri zvezdice za grad Branson: n.a.. Stil ovog hotela je Povoljan.Ovaj hotel pruža i posebne pogodnosti, kao što je na primer: usluge buđenja.

Seven Gables Inn tip(ovi): Povoljan
Seven Gables Inn sadržaji i usluge
Usluge
Usluge buđenja
Sale za sastanke
Aktivnosti u blizini
Muzej

43,4 km

Christian County Museum:

11,9 km

Boxcar Willie Theater:

12,1 km

Cadwell Classic Car Museum:

537 m

Hollywood Wax Museum, MO:

39,5 km

Southern Plains Indian Museum:

1,9 km

Roy Rogers-Dale Evans Museum:

4,2 km

Ralph Foster Museum:

3,5 km

Dewey Short Visitor Center:

Zabavni park

5,7 km

Celebration City :

6,1 km

Silver Dollar City :

Golf i drugi sportovi

10,7 km

Top Of The Rock Golf Course:

40,6 km

Creek At Qualchan:

1,7 km

Thousand Hills Resort Golf Club:

13 km

Oakmont Community Golf Course:

6,5 km

Ledgestone Country Club:

4,2 km

Pointe Royale Country Club:

44,4 km

Links At Harrison:

39,5 km

Hidden Valley Gl:

7,3 km

Ledgestone Country Club At Stonebridge Village:

12,7 km

Northwood Country Club:

39,2 km

Diamond Hills Country Club:

10,1 km

Branson Creek Golf Club:

41,7 km

Hidden Valley Golf Links:

32,1 km

Kings River Golf Course:

25 km

West Branson Bluffs Resort:

6,5 km

State Park Dive Shop :

12,2 km

Kimberling Golf Course:

16,9 km

Taneycomo Golf Club:

1,8 km

Holiday Hills Resort Golf Club:

40,6 km

Eagle Ridge: